TWIS Summer Passport 2020
Let's enjoy your summer!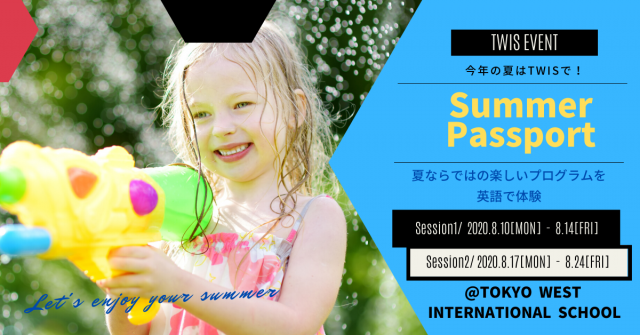 TWIS Summer Passport 2020 will be held as follows; Summer interactive program includes Art, Craft and Sports…etc . Let's enjoy this summer with us!
Term
・Session 1​August 10th, 2020 – August 14th, 2020
・Session 2​August 17th, 2020 – August 21st, 2020
Time
・From 9:00am to 13:00pm / every day (Eating lunch before leaving)
Place
・Tokyo West International School
Fee
・JP¥39,000 / Session (Including Lunch fee)
* No discount when you bring your own lunch.
Target Classes
・Each grade from K3 to Grade 4, Combine Class from Grade 5 and Grade 6, Combine Class for Middle School
・Due to TWIS all grade students will join same programs, we have screening test for joining.
・Number of participants is limited. Once the space is full, we will stop receiving applications.
School Bus service
・You can use the school bus during this period.
・School bus fee will be charged separately.
– JR Hachioji​​¥2,500 / Session
– Tachikawa​​¥6,000 / Session
– Akishima​​¥5,000 / Session
– Machida​​¥8,000 / Session
– Tama-Center ​¥7,000 / Session
* School bus will be provided only when there is vacant space.
Submission
・Please apply via the following URL.
https://forms.gle/UhUH2DPJtpWWaXRz5
・From July 1st to July 27th, 12:00pm
Note
Because of COVID-19, the event might be canceled. We ask you for your understanding.
---
TWISでは、今年度Summer Passport 2020を以下の通り行います。 アート、クラフト、スポーツをベースとした『夏だからこその楽しいプログラム』を用意しました。 今年の夏は、本校で楽しい一瞬を過ごしませんか?
開催期間
・セッション1​2020年8月10日(月)〜8月14日(金)
・セッション2​2020年8月17日(月)〜8月21日(金)
開催時間
・各日 9:00〜13:00(ランチを食べてからの解散となります)
開催場所
・東京ウエストインターナショナル
参加費
・39,000円/セッション(ランチ代込み)
*お弁当を持参の場合でも、割引等はございませんのでご了承ください。
対象学年
・K3(3歳)〜G4(小学4年生)の各学年
・高学年クラス(G5 and G6(小学5、6年生))
・Middle School(中学生)
・各プログラムは、本校生徒も一緒に参加のため、参加ご希望の方には、Screening Testを受けていただきます。
・定員になり次第、締め切りとさせていただきますのでご了承ください。
スクールバスご利用希望
・この期間はスクールバスのご利用が可能です。(別途料金が発生いたします)
– 八王子駅​​¥2,500 / Session
– 立川駅​​¥6,000 / Session
– 昭島駅​​¥5,000 / Session
– 町田駅​​¥8,000 / Session
– 多摩センター駅​¥7,000 / Session
* スクールバスは空きがある場合のみとさせていただきます。
参加方法
・下記U R Lよりお申し込みください。
https://forms.gle/UhUH2DPJtpWWaXRz5
申込期間
・2020年7月1日(水)〜 7月27日(月)12:00まで
備考
新型コロナウイルスの影響により、本プログラムを中止させていただくこともあります。