By Car
Please follow route 169 (Shin-takiyama-kaido) towards west; you will see Tokyo West International School's campus on your left. The school's car park is just before the school (past the Chinese restaurant)

By Train
<From JR Hachioji Station>
From Hachioji station, catch Nishi Tokyo bus [ひ01] [ひ03] [ひ06] [ひ07] [ひ08] for Tobuki (via Mt. Hiyodori tunnel) and get off at Michi-no-eki Hachioji Takiyama Entrance (12 minutes).
The bus departs from stop no.12 outside the station's North exit.
Access by city bus from JR Hachioji Station(JR八王子駅から市バスを利用する場合)PDF
<From JR Hachioji Station>
Access by city bus from Keio Hachioji Station(京王八王子駅から市バスを利用する場合)PDF
Map
185 Umetsubo-machi, Hachioji city, Tokyo, Japan 192-0013
School Bus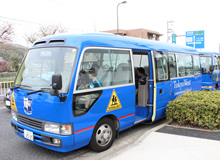 10 minutes from Hachioji Station, 30 minutes from Tachikawa Station, 40 minutes from Tamagawa Josui Station, 20 minutes from Akishima Station, 40 minutes from Tama Center Station, 60 minutes from Machida station by school bus.
Please arrive at your bus stop at least 10 minutes before arrival and departure times.