Tokyo West International School
Winter School in 2021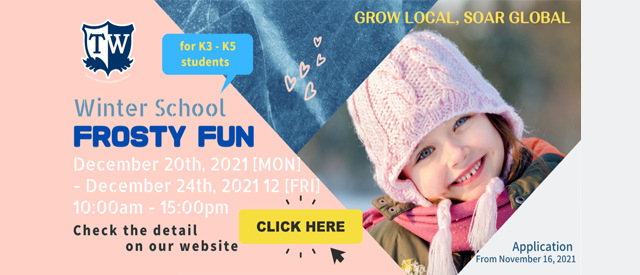 TWIS Winter School in 2021 will be held from December 20th to December 24th.
This one week will be packed with winter fun activities planned by TWIS teachers.
Application: https://forms.gle/kCDhGfHDrz5v1Lur5
Term: December 20th, 2021 〜December 24th, 2021
Time: 9:00 – 15:00
Details
10:00 – 10:30 Circle Time
10:30 – 11:00 Snack Time
11:00 – 12:00 Lesson
12:00 – 13:00 Lunch time
13:00 – 14:15 Lesson
14:15 – 15::00 Snack / Clean Up / Dismissal
Monday / Dec. 20
Tuning In – What is winter?  (KWL chart)

Winter Clothes – Discussion

Game – Dress Up
Toy, paper doll, or their actual clothes

Arts and Crafts – Decorate your winter gloves or hats

Tuesday / Dec. 21
ALL ABOUT SNOWFLAKES
Wednesday / Dec. 22
ALL SNOW ANIMALS
– ANTARCTIC . Polar bear, penguins, owls
Thursday / Dec. 23
ALL ABOUT WINTER SPORTS /ACTIVITIES

Letter for winter gift (K4-K5)
-we will send to parents

Wish list (K3)
-arts and crafts (gift box decoration)

Friday / Dec. 24
WINTER PARTY / Picnic
-dance, food
-Winter Scavenger Hunt
(Vocabulary building)
Lunch: Please bring your own lunch. School lunch is not provided.
Fee: ¥35,000 (Include school bus fee)
There is no refund even if school bus is not required.
Target Age: From K3 to K5 (Date of birth: April 1st, 2018 to April 2nd, 2015)
School bus operation JR Hachioji only
If you have any questions, please feel free to contact us.
Tokyo West International School